First Holy Communion
Families of children preparing for First Holy Communion were invited to Mass in the Star of the Sea Church on Sunday 10th November with Fr. Doran.
Peace Proms Workshop
3rd to 6th class will take part in the Peace Proms on Saturday 1st February 2020 in Simmonscourt Arena, RDS, Dublin. On November 5th we travelled to the National Indoor Arena for a rehearsal with the other choirs involved in the Peace Proms.   Conductor Greg Beardsley held the workshop and was very pleased with the children's progress. It is a great opportunity for the children to experience working with a conductor and live orchestra, and we are looking forward to the concert.
Accord
On November 6th Accord visited the school and gave a talk to 5th and 6th class on growing up. They will return in May 2020 and give a follow up talk to 6th class.
FAI FUTSAL
Third and Fourth class took part in an interschool Futsal Competition on Thursday 14th November in Arklow. It was extremely well run. The children really enjoyed it and every child participated. Our thanks to Richie Fitzgibbon and his team for the invitation and organisation of this event. Thank you to Rebecca Pallas, Chris Doyle and Siobhan Kennedy-Perri for helping on the day.
Junior Infants Vaccinations
On November 20th the HSE visited the school to carry out vaccinations on Junior Infants.
Hurling Blitz
On Friday 22nd November children from 3rd and 4th class were invited to take part in a Hurling Blitz in Aughrim Grounds. This was organised by Cumann na mBunscol and a great day was had by all. Thank you to Noel McCall for helping on the day.
Someone Like Me Project Award
Ms Heffernan's and Ms Montgomery's class entered the Someone Like Me art competition. This involved exploring the idea of inclusion- how we are all different and special in our own way and how we can include people with disabilities in our lives and in our games. Each person created a picture or picture sequence with their own ideas of inclusion. The pictures were put together in a scrap book with hand prints and finger prints which represented everyone's uniqueness coming together as a class. We were delighted to be selected as Wicklow county winners for the junior category. Heidi O'Grady attended the awards ceremony in City Hall on the 3rd December with pupils Maya Hogan, Eimear Lumsden and Emma Byrne. They had a great day and were delighted to be presented with a certificate and prize for the class and school. Thank you to Heidi for taking the time to bring the girls to the event.
Outreach Programme
Education staff from Wicklow Mountains National Park visited the school this term. They gave wonderful lessons on bugs, bats, birds and Irish mammals which were enjoyed by all.
Junior & Senior Infants – Ms. Walsh – Bugs
Senior Infants & 1st – Ms Doyle – Birds
1st & 2nd – Ms. Heffernan/Ms. Montgomery – Bats
3rd & 4th – Ms. Gibney – Irish mammals
4th & 5th – Mrs. O'Doherty – Bats
5th & 6th – Mrs. Burke – Irish mammals
'Mary Poppins'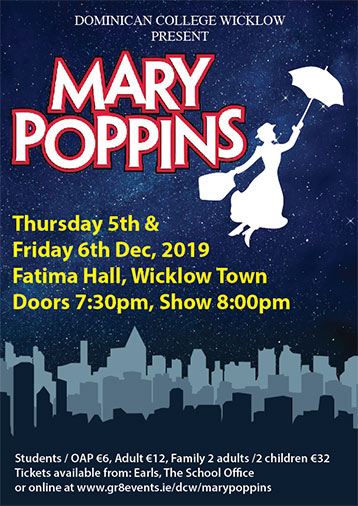 On the 5th December all classes went to Dominican College, Wicklow to see their musical 'Mary Poppins'. Some past pupils were involved in the musical. Congratulations to them all on a great performance. The children really enjoyed it from infants to sixth.
Recycled Christmas Decoration Competition
Children from the school participated in the Annual Recycled Christmas Tree Decoration competition, run by Wicklow County Council. There were lots of lovely, imaginative decorations made, and entries were chosen from the school to go forward to the competition, Senan O'Donovan, Maya Hogan and William Roberts. Well done to Senan who was presented with an award in Wicklow County Council on Tuesday 17th December and to Maya and William who were runners up, and to all who participated in this very enjoyable project.
Cookie Day
The inaugural Cookie Day was a fantastic success, raising €251 for the School.  Thank you to the parents for supporting the day, which will be a monthly event and to the teachers for making the event run so smoothly.   A very special thank you to Liz McGauley for making all the dough and to the parents who baked and delivered the cookies.
Christmas Plays /Carols
Junior Infants to 2nd class performed their Christmas plays in school on Thursday 19th December. The children were amazing and they all performed so well. The children from 3rd to 6th class performed carols in the Church. Well done to everyone. A big thank you to Siobhan Kennedy-Perri for all her hard work. Many thanks for all the donations for school resources. This amounted to €670.
Open/Enrolment Day
Open/Enrolment day for Junior Infants starting in September 2020 will take place in the school on Friday 24th January 2020. If you know of any children of school going age in the area, please let them know.
Arklow Music Festival
Arklow Music Festival is fast approaching, and will take place from Saturday March 7th to Sunday March 15th 2020. Details will be given out after the Christmas holidays. This has proven to provide children with an invaluable skills set going forward. It helps them deal more effectively with oral presentations which now constitute a large proportion of their secondary school and university exams.
Garda Vetting Reminder
Parents wishing to help with any activities in the school must have Garda vetting. Please contact the school office for details on how to apply.
Voluntary Contributions
Thank you to all those parents who have paid voluntary contributions. As there is always a short fall in funding from the Department of Education, these contributions are necessary to pay the costs of running the school.
The Capitation Grant which is intended to be spent on the day to day running of the school e.g. heating, lighting, insurance, maintenance contracts, office supplies, cleaning, teaching materials and resources etc was €200 per child per year prior to 2009. It was reduced when the recession hit but unfortunately, not only has it not been restored, it has not been increased to match rising costs. It currently stands at €179 per child per year.
Consequently schools have to constantly call on parents and the community to fundraise to meet the shortfall. Teachers and staff also get heavily involved in the fundraising.
There will be an election in the next year. It is so important to lobby TDs and demand adequate funding for schools by the Department of Education and Skills.
Dates for your diary:
School Closed Monday 13th January 2020:
Department of Education In-Service Day for the New Primary Language Curriculum for staff will take place on Monday 13th January 2020. Therefore school will be closed on that day.
School closes for Christmas holidays on Friday 20th December at 11.30am and reopens Monday 6th January, 2020 at 8.50am.
The Staff and Board of Management would like to wish all families a happy and peaceful Christmas and New Year.
Nollaig Shona daoibh go Léir agus Athbhliain faoimhaise daoibh freisin.